Contemplative Essay as a Way to Discover Yourself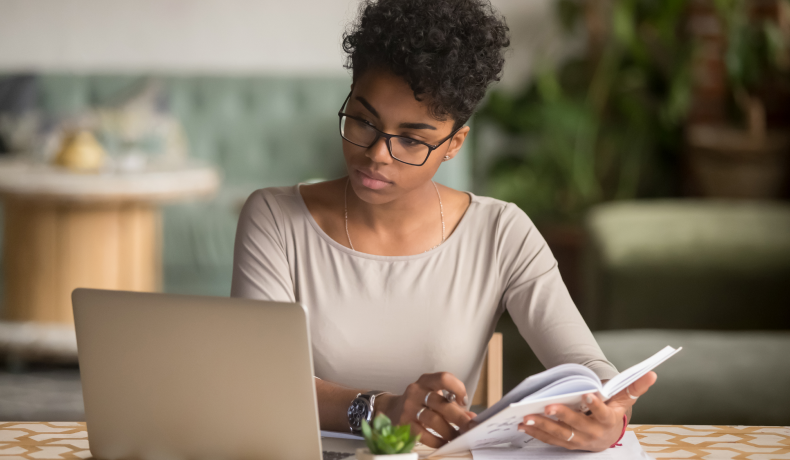 A contemplative or a meditative essay, as it is often called, asks an open-ended question and allows the writer to answer it in the body paragraphs. There is no concrete answer to that question, and the author is pondering the issue and is writing down the thoughts and ideas that appear.
In most cases, a contemplative essay requires writers to explore emotions or objects through the prism of inner understanding, thoughts, and ideas. The main goal of the writer is to go from idea's generalization to concrete details and concepts that the audience will relate to.
Unlike a narrative essay, a contemplative one doesn't render a particular story about the author's personality and doesn't aim to persuade someone as a persuasive essay. But it's not a personal narrative essay either, which is based solely on your own experience. Instead, you focus on a certain object, idea, or feeling and explore everything that it can bring. No clear answer is needed.
Sounds too confusing? Don't worry, we felt the same way when we were first assigned to a contemplative essay. Luckily, this type of writing is rather rare, and you won't have to face it day after day. Of course, if you're not studying on a philosophy faculty.
Below we will write more about contemplative essays, their structure, content, and topic examples. After finishing the article, you'll have a better understanding of what this task is about and will be able to create a powerful and interesting essay that will bring you not only a high grade but also a better understanding of who you are.
What to Include to a Contemplative Essay
As you probably understand, this essay doesn't follow a particular structure. It follows your thoughts and ideas even though there can be an introduction where you tell what the essay is about, body paragraphs with main ideas, and conclusion where you need to summarize everything being said.
However, below we'd like to give a quick explanation of what to include in a meditative essay depending on the topic. Thus, you'll always be ready to write a great paper and to get the highest score!
Write about an idea or emotion through objects. Many writers explore a particular emotion or idea through certain objects, which embody the use. For example, you're planning to write about happiness. You need to write about objects, which embody happiness: the birth of a child, graduation, getting married, being healthy, and so on. Such an essay should contain concrete descriptions, metaphors, and details. Devote a separate section to each object, not to confuse the audience.
Write about a certain object. Another way to write a contemplative essay is to start with the chosen object. However, to write a deep and thoughtful essay, you need to find hidden associations and attributes with this object. Imagine yourself opening a present: what's hidden inside? What qualities does it have? For example, you have found a wallet on the street. Start with describing what is inside of it – cash, cards, pictures. Then describe what is beyond – social, existential, and cultural aspects of the wallet. Remember, there is no correct answer, and everything depends on how you see the issue.
Contemplative Essay Writing Tips
Writing a meditative essay is quite a difficult journey, especially considering that these assignments are not very common, and students simply may not know how to deal with them. Below you'll find a few tips that will help to create a good meditative essay:
Choose a topic that you like
You probably know that a topic you discuss must be interesting for you: not only for the audience and the tutor. The subject must stir your emotions and let you learn more about yourself and the world. If it is difficult to choose a certain subject, make a list of possible topics, and then cross out those that you like less.
If the open question is still not known, we recommend starting with the topic and then researching what questions may arise inside the issue.
The greatest writers and journalists use this technique day after day: they write down everything that comes in their head without thinking too much. Just write every thought you have, and you'll be able to find out a few interesting points and arguments to stick to.
Instead of providing plain text, we recommend using colorful details, examples, and even visual materials if appropriate. Make your language live and flexible, and the readers will dive into the story with you.
Use metaphors and similes
To enrich language and to explain complex ideas, try using metaphors. Thus, your thoughts will be clearer, and the readers won't be left questioning what you were trying to say. To make the points clearer, we also recommend sticking to the first or the third person.
Try to find symbolic meaning
As you already know, a contemplative essay requires deep analysis and even a spiritual approach. That is why, apart from the literal meaning, you should find a symbolic one. At first, it may be difficult, but as time goes by, you'll learn how to distinguish symbolism and to draw conclusions.
Think of related associations and ideas
If you don't know what to write about when the topic is already chosen, we recommend sticking to associations. For example, what ideas pop in your mind when thinking about religion? Write those associations down, and they will eventually lead you to a few arguments for the essay.
Readers value when the writer shows inner thoughts and ideas. That is why you should include reflections into the contemplative essay without fear of being judged or evaluated. While you can omit particular issues that are painful, it's still important to share your opinion with the reader. That's what the contemplative essay is about.
A contemplative essay takes time. It's difficult to write a good paper of such kind overnight, so you need to give yourself enough time to come up with the right topic, strong arguments, and inner peace to reveal everything that's on your mind.
Once the final draft is written, we recommend taking some time to relax or work on other assignments. If you have been working on the contemplative essay for days or even weeks, it's difficult to notice mistakes and imperfections in the text.
Close your laptop or put the draft in the desk and go outside. Meet with friends, enjoy nature, and do whatever you want. You did a great job, so treat yourself!
In a few days or at least hours (if the deadline is near), return to the text and read it critically. Is it smooth and easy to read? Are there paragraphs that fall out of the general path? You may switch or even delete sentences or paragraphs that seem wrong. When the structure and content are polished, read the draft once again, searching for typos and mistakes.
Make sure there are no grammar or lexical mistakes, and that your vocabulary is appropriate. If you doubt, use online checking software or ask friends and family for help. They will not only detect mistakes but will evaluate the essay. And if you are embarrassed, our Mcessay.com editors and proofreaders are always at your service.
Contemplative Essay Topics
The best part about a contemplative essay is the variety of topics it may cover. Actually, you can take any controversial issue and turn it into a subject for your essay. If you lack ideas, here are some of the topics to get started:
Is cloning ethical?
Should people have a right to carry a weapon?
Do our lives have a purpose? Or we just exist without any meaning?
Should abortion be legal?
Do you think that God exists?
Do you support the death penalty? Why?
What is the ultimate goal of every human?
Is death final, or is there an afterlife?
Were we created to live with only one person throughout our lives?
As you see, the topics may be rather diverse and concern the issues that don't have a clear answer. A contemplative essay is based on your own ideas, so just start writing and don't think what others will say about your thoughts.
Don't Know How to Write a Contemplative Essay? Hire Us!
A contemplative essay can easily turn into a headache, especially if you're not used to putting thoughts on paper. Every day we receive requests from students worldwide who struggle to complete this assignment but fail because of other tasks that are waiting for them.
And while you can find data online for regular essays and research papers, contemplative essays are based on your own ideas, so you should devote more time and energy to the writing process.
But if you don't have enough time or writing skills, don't stress out. Mcessay.com is a professional writing service that is ready to cover your needs. We have been on the market for years and know exactly what you need!
All you need to do is to fill in the order form and wait till we do the rest. We guarantee first-class essays, affordable prices, protection of personal data, and lots of other perks!