Everything you need to know about an argumentative essay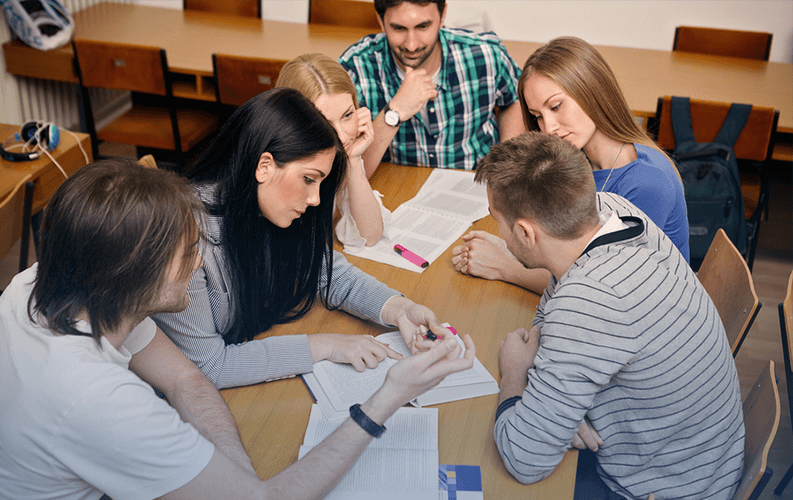 The goal of an argumentative essay is to declare a position on a given subject or issue and back this position with solid reasons, facts and evidence. Through a thoughtful reasoning the reader is motivated to change attitude to the subject and accept writer's point of view.
In this manual we will tell you how to complete an argumentative essay in a simple way, avoiding the most common mistakes.
To have a positive impact on the reader, your argumentative essay should possess certain qualities. They include a strong and debatable topic, detailed evaluation, credible evidence and good writing skills.
How to choose a perfect topic
Luckily, the selection of topics to write about has no limits. Simply look at the newspapers and TV channels: there is always something going on and discussed. People constantly try to persuade each other, trying to make the opponent change the point of view.
When you are processing various topics, you should answer the following questions:
Why did something happen?
What makes it important?
How the reader should react?
A potentially good topic always has at least two completely different points of view. While you should have a deep and genuine interest in the subject, you mustn't forget that the subject should generate solid arguments.
You may believe in a particular issue but not being able to support your point of view with logical evidence will surely burry your essay.
When you are choosing a proper topic, make a list of evidence for every issue and it will become obvious whether the matter is good for an argumentative essay or not.
We will help you with your homework – Order now!
Analyze both sides of an argument and choose which one you are on
When you have stopped your search on a certain topic, get back to the list of arguments and decide which one suites you more. Before starting the writing process you need to have a clear understanding what your position is.
Throughout your essay you will need to provide arguments for both sides. That is why, despite the position you choose, all of the provided arguments for an opposite idea should be carefully examined. This will give you a great chance to support your point of view during debates and answering questions of the audience.
Collect evidence and supporting information
While written data lacks emotions and body language, it is very important to support a certain issue with credible evidence and data. When you are accessing every argument, try to answer the most important questions to support your point of view:
Definition. What does the argument means?
Fact. Is the claim factual?
Value. What caused the issue?
Cause. Is it valuable?
Proposition. What can be done about it?
Proceed with writing your essay
Once you have chosen the topic and created a strong outline, you can build the structure of your argumentative essay. As any other essay, your argumentative paper should consist of an introduction, body paragraphs and conclusion.
The size of every paragraph depends on the required length of the whole work but five-seven sentences if else is not indicated will be enough.
Introduction
The first paragraph of your essay should consist of a statement and a brief explanation of the topic, main background information and a thorough thesis statement. It will help the reader to understand what side you are on.
Winning thesis statement
If you want to impress the reader with a great thesis, you should first approach your topic as if it is a question. To do that you need to get back to the list of questions you have written down, when working on arguments' sides.
For example, if you want to discuss issues of daycare and how it is subsidized, you may have to ask the following questions:
Does pricy daycare cause big problems for families with average income? Fact;
What is 'licensed care'? Definition;
What are the consequences of an unaffordable daycare? Cause and Effect;
Is it important for every family to get childcare? Value;
What can be done in order to make childcare accessible and affordable for common families? Proposition.
In some of the cases you can duplicate the question from the title and include it to your introduction. Basically, your thesis statement is the answer to such a question.
For example, Every government must ensure that every family has access to reliable and affordable childcare. This can be achieved by offering subsidies to parents with average income.
It is a good idea to refute future objections right from the beginning. You can do it by inserting a phrase into your introduction and make a solid statement, which will refute opposite points of view.
For example, While many people think that licensed daycare is something that is affordable for the working class and that subsidies for the childcare would increase taxes on the social system, latest researches claim that limited access to reachable daycare prevents an ability to work, which influences the tax system even more.
A thoughtful argumentative essay must present both points of view on the same issue. Your body paragraphs should consist of evidence, supported with facts and evidence, which will refute other ideas.
Every side of the discussed issue should be covered with enough details and strongest arguments should contrast weakest ones of your opponents. Once you explain the opposite side, make a statement and offer evidence to strengthen your point of view.
Provide evidence
Collect as much information as possible and use it to back your own claims with the strongest evidence. Try to choose evidence of different origin, like studies, funny stories and statistics. Depending on the quantity of your arguments, there can be from two to hundred pages in your argumentative essay.
Don't forget to restate what makes your position logical.
Outline of an argumentative essay
An argumentative essay has quite a simple and regular structure, so the main thing you need to concentrate on is the elements it should contain. A good paper surely will:
Engage the audience, tell them about a certain issue and motivate to learn more;
Explain all the points of view on the subject;
Persuade the audience to consider your position as the valid one;
Refute all the objections;
Motivate readers to change their point of view.
In case you are not a writing guru, you can always contact us and get assistance 24/7!
Step-by-step guide
All you need for creating a flawless outline is to follow the 'map' below:
Introduction. It should not only explain the discussed topic but also to compare & contrast both points of view, and make a statement. Here are the most important tips:

Try to ask a question in the title, which you will further use in your thesis and body paragraphs;
Know your audience to understand what parts of the issue will grab their attention the most;
Make sure you give a clear answer on the asked question through a thesis statement. It should be placed in the end of the introductory section.

Body paragraphs. They give an explanation why the reader must adopt your point of view. It is very important to refute all objections in your body paragraphs and support every evidence with reliable facts.

Body of your essay should consist of at least three arguments why your position is the strongest one. These are called 'topic sentences';
Every sentence should shape a separate paragraph and be backed with facts, supporting information and statistics;
Think in advance what objections the reader can have and try to refute them with evidence and facts.

Conclusion. The last section of your essay should contain a closing sentence, which persuades readers in adopting a particular point of view.

Why should your audience change their mind and agree with you?
You can use anticipated objections, when working on final remarks.
Conclusion of an argumentative essay
The last paragraph of your essay should be a summary of all the issues and arguments you have discussed throughout the work. You can appeal to the readers in several ways:
Persuade them to experience different emotions by telling examples from real life;
Review the first argument and revise it in such a way that the audience makes new conclusions.
In the end write a sentence that will once again back your main argument and will prove that your point of view is the most valid one.
Guidelines you will surely need
Get familiar with examples of argumentative essays to understand which elements work and which don't;
Be ready to have an argument for any future objective. For this purpose you need to study opponents' evidence and find a credible argument for each;
Devote enough time to writing a strong and clear outline;
Cite all of the used sources properly and use footnotes if necessary;
Never make up facts and evidence, because it is easy to check whether you are using credible data or not;
Understand what is the difference between an emotional and a logical conclusion;
Try not to be emotional and always use a professional and academic language.
Need writing help?
It often happens that students have no time for writing their argumentative essays, being snowed under tens of other assignments.
If you don't want to miss the deadline and need a high grade, contact us right now. Our paper writers are the best on the market and are ready to write your paper not depending whether it is a high school essay or a dissertation. Place an order or contact our managers to simplify your life!